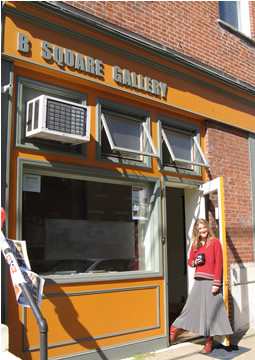 B Square Gallery
614 South 9th St
Philadelphia, PA 19147
(215) 625-0692
There are no gallery hours in 2013, please call for an appointment.
Check out a list of all the artists shown in B Square Gallery

Heather Bryson opened B Square Gallery in Philadelphia in November 2000.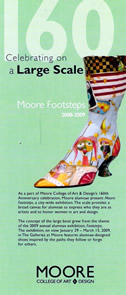 As a part of Moore College of Art & Design's 160th Anniversary celebration, Moore Alumnae present Moore Footsteps, a city-wide exhibition. The scale (six foot boots) provided a broad canvas for alumnae to express who they are as artists and to honor women in art and design.
The concept of the large boot grew from the theme of the 2009 annual alumnae exhibition, Footsteps. The exhibition featured alumnae-designed shoes inspired by the paths they follow or forge for others.
Click on the image to see larger pictures of Heather's boot.
Heather wanted a space to showcase her talented friends' art, as well as her own work and B Square has facilitated all of her dreams. The art of business and communicating with her clients has helped her to grow as an artist. Heather and B Square Gallery were featured in the fall 2007 issue of MooreNews and Heather was recently selected as one of 12 artists to paint Darla Jackson's sculpted boot for the exhibition Footsteps, celebrating Moore College of Art and Design's 160th anniversary.
Come in to discuss custom jewelry designs or browse around the gallery filled with Philly talent. It is a warm and friendly place to visit where you will find lots of special, local one of a kind pieces. B Square Gallery is wheelchair accessible. Hope to see you soon!
---
Showing: Now until November 2013

Romy Burkus and Alan Kolc

Romy Burkus is an artist with a diverse background. She earned a BFA in Graphic Design, with a major focus on drawing, from Moore College of Art and Design and a MAT in Visual Arts from the University of the Arts, both in Philadelphia. Ms. Burkus is primarily interested in processes that involve layering of color, which lead her to printmaking and encaustic painting. She believes in making images that bring viewers peace and stillness, especially in these days of sensory overload. Ms. Burkus is represented by B-Square Gallery in Philadelphia and shows there annually.
---

Alan Kolc was trained in painting at the Pennsylvania Academy of the Fine Arts. He did private study with Morris Blackburn in landscape painting along the Jersey Shore. Alan took this training and applied it to photography, always searching out motifs that lent themselves to the kind of abstract analysis he'd learned in school. The present work is from two trips to Corsica where the sea, mountains, and light are unique. These are digital images which are highly refined on the computer to fulfill his desire for a lasting impression.