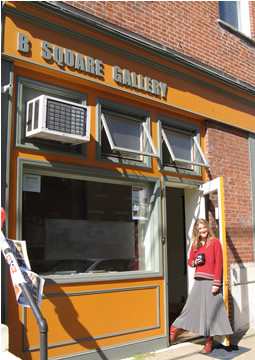 B Square Gallery
614 South 9th St
Philadelphia, PA 19147
(215) 625-0692
There are no gallery hours in 2015, please call for an appointment.
Check out a list of all the artists shown in B Square Gallery

Heather Bryson opened B Square Gallery in Philadelphia in November 2000.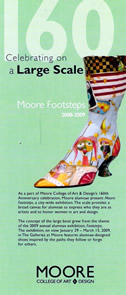 As a part of Moore College of Art & Design's 160th Anniversary celebration, Moore Alumnae present Moore Footsteps, a city-wide exhibition. The scale (six foot boots) provided a broad canvas for alumnae to express who they are as artists and to honor women in art and design.
The concept of the large boot grew from the theme of the 2009 annual alumnae exhibition, Footsteps. The exhibition featured alumnae-designed shoes inspired by the paths they follow or forge for others.
Click on the image to see larger pictures of Heather's boot.
Heather wanted a space to showcase her talented friends' art, as well as her own work and B Square has facilitated all of her dreams. The art of business and communicating with her clients has helped her to grow as an artist. Heather and B Square Gallery were featured in the fall 2007 issue of MooreNews and Heather was selected as one of 12 artists to paint Darla Jackson's sculpted boot for the exhibition Footsteps, celebrating Moore College of Art and Design's 160th anniversary.
Come in to discuss custom jewelry designs or browse around the gallery filled with Philly talent. It is a warm and friendly place to visit where you will find lots of special, local one of a kind pieces. B Square Gallery is wheelchair accessible. Hope to see you soon!
---
Showing
June 12th thru July 31st:
Paintings by Jasmine Alleger and Cathey White

Opening Reception: Saturday, June 27th from 7-9 pm



Jasmine Alleger's work is a catalog/diary of her everyday experience. She combines found materials with painted images of our ordinary, day to day, "mostly food" items. The materials and painted images serve as a system for mapping information. She believes that "the juxtaposition of collaged material with painted objects is a way to navigate through contemporary media". Whether that information is phone numbers, restaurant menus, street signs, city maps or food labels, Jasmine Alleger is finding her way through the appropriated material of today.




Cathey White's paintings speak about the beauty and color that can be found throughout the muted background of Philadelphia . Cathey's influence of graffiti and street art are found throughout her work. The layering technique in her artwork evokes years of constant change happening on the painted walls of city streets. Cathey states, "When I look at the walls in Philadelphia , there is such a history; one story on top of another on top of another...."

Cathey hopes to continue making work that inspires people from every cultural, ethnic and economic background. She remains consistently inspired by her urban environment and the beauty that can be found within it.