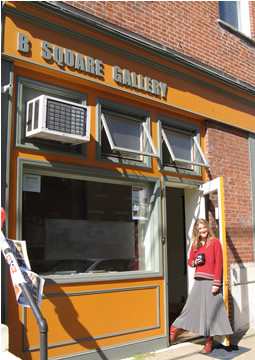 B Square Gallery
614 South 9th St
Philadelphia, PA 19147
(215) 625-0692
There are no gallery hours in 2015, please call for an appointment.
Check out a list of all the artists shown in B Square Gallery

Heather Bryson opened B Square Gallery in Philadelphia in November 2000.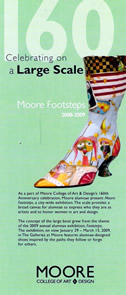 As a part of Moore College of Art & Design's 160th Anniversary celebration, Moore Alumnae present Moore Footsteps, a city-wide exhibition. The scale (six foot boots) provided a broad canvas for alumnae to express who they are as artists and to honor women in art and design.
The concept of the large boot grew from the theme of the 2009 annual alumnae exhibition, Footsteps. The exhibition featured alumnae-designed shoes inspired by the paths they follow or forge for others.
Click on the image to see larger pictures of Heather's boot.
Heather wanted a space to showcase her talented friends' art, as well as her own work and B Square has facilitated all of her dreams. The art of business and communicating with her clients has helped her to grow as an artist. Heather and B Square Gallery were featured in the fall 2007 issue of MooreNews and Heather was selected as one of 12 artists to paint Darla Jackson's sculpted boot for the exhibition Footsteps, celebrating Moore College of Art and Design's 160th anniversary.
Come in to discuss custom jewelry designs or browse around the gallery filled with Philly talent. It is a warm and friendly place to visit where you will find lots of special, local one of a kind pieces. B Square Gallery is wheelchair accessible. Hope to see you soon!
---



Showing July 9th thru August 30th, 2016: Group Show "Out of Print" by BYO Print
Opening Reception: Saturday, July 9th from 6-8 pm.

B Square Gallery is proud to host BYO Print. This is the first time that the collaborative print shop has exhibited at B Square. There will be fifteen members and one intern participating:
Katie VanVliet, Lisa Imperiale, Jenn Manzella, Ted Mosher, Chad Lassin, Karen Powers, Ellyn Womelsdorf, Mike Sgier, Christiane Moore, Albert Fung, Corey Jameson, Laura Murdoch, Nicole Saltzer, Ken D' Amato, Max Hautala, Phoebe Morgan (Moore intern class of 2017)

BYO Print was founded in 2010 and is a cooperative printmaking studio in the old Kensington section of Philadelphia. The idea was to have an affordable, accessible printmaking studio with the mission to keep artists printing on their own time within a reasonable budget. Besides their individual practices, they complete group projects and love traveling to sites to make prints. Most recently they printed collaboratively along the Schuylkill River Banks during Art in the Open Philadelphia in May, 2016 and built Blanket Fort! from discarded printing materials for a unique installation at The Art Dept. Gallery in Philadelphia in December 2014.